Places for Rehabilitation Care
Rehabilitation can occur in many places, such as inpatient rehabilitation facilities or nursing homes or through home-based care. One patient may complete rehabilitation in one place, while another may begin receiving care in an inpatient facility and later transition to receiving health care at home. Your doctor will make recommendations based on medical need and your ability to participate in rehabilitation therapy. Other considerations, such as the ability to travel to and from outpatient rehabilitation centers, may be taken into account.
ARN's Making the Right Decision brochure provides an overview of various rehabilitation settings, the care offered, and other factors considered when a decision about rehabilitation care is made.
Number of Days in Rehabilitation
You may resist the idea of being in a facility for rehabilitation. You may prefer to go home and "get back to normal" after surgery, a stroke, or another health event. However, many people need help regaining their abilities. The goal of rehabilitation is to help you regain maximum health and the highest level of independence possible.
"How long do I have to be in rehab?" is a difficult question to answer. Much depends on the level of your injury or impairment and how quickly you progress. Every person is different. Financial considerations also play a role, and your insurance or financial coverage for treatment may affect the length of your treatment.
Types of Therapy
Types of Therapy
Whether you need physical, speech and cognitive, occupational, or respiratory therapy, RESTART can provide you with the information you need to get started.

Physical therapy focuses on your ability to move about safely. Depending on your injury or level of impairment, physical therapy will provide assistance and equipment that will maximize your ability to walk, bend, transfer, and position yourself to perform daily functional activities. Physical therapy includes specific exercises, manual therapy, education, and manipulation. It also may include fitness and wellness-oriented programs to help you achieve a healthier, more active lifestyle and develop, maintain, and restore maximum movement and functional ability for daily activities.

Speech therapy and cognitive therapy focus on skills related to thinking and remembering, feeding and swallowing, and talking.

Occupational therapy is aimed at helping you participate in the things you need and want to do through the therapeutic use of everyday activities at home, work, and school and in the community. It may include learning to do things in a different way or using supports to help you be as independent as possible.

Respiratory therapy assists in the management of breathing issues such as asthma, chronic obstructive pulmonary disease (COPD), obstructive sleep apnea, and other medical conditions that may affect your breathing.
Medical Management
Medical management addresses conditions ranging from bone fractures, wound care, high blood pressure, high cholesterol, diabetes, pain, medications, and prosthetics.
The Roles of the Certified Rehabilitation Registered Nurse®, Rehabilitation Nurse, and Restorative Nurse
When you are in a hospital or doctor's office, nurses observe, assess, and record your symptoms, reactions, and progress, which provide the basis for planning your care and treatment. Nurses are health educators and advocates for patients, families, and communities.
Certified Rehabilitation Registered Nurse®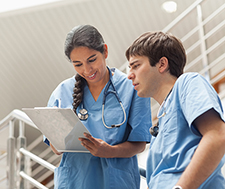 The certified rehabilitation registered nurse, or CRRN®, is a rehabilitation RN who has earned a special certification. The CRRN designation requires nurses to have experience in rehabilitation nursing and pass an exam that confirms a certain level of knowledge of rehabilitation nursing practice. The CRRN demonstrates knowledge, experience, and commitment to excellence in comprehensive care for people with physical disabilities and chronic illnesses in all specialties and settings of rehabilitation.
Rehabilitation Nurse
Rehabilitation registered nurses (RNs) have special knowledge and skills so they can provide care for you and assist you in gaining and keeping your maximum abilities. The rehabilitation nurse directs and supervises other members of the nursing staff, such as nursing assistants, patient care technicians (PCTs), and licensed practical nurses (LPNs), who may provide much of your daily care.
The rehabilitation nurse works with you and your family to develop your rehabilitation goals. When your goals have been identified, the rehabilitation nurse develops and manages your individual nursing care plan, instructs you in proper ongoing self-care, and helps you take steps to improve or maintain your health. The rehabilitation nurse provides teaching and resource materials specific to your individual needs and also reinforces any teaching done by other specialists and therapists. In addition, the rehabilitation nurse is your advocate and participates in rehabilitation healthcare team meetings to offer input into the decision making related to your daily care.
Restorative Nurse
In the skilled nursing facility or home-care agencies, the term restorative nurse may be used to refer to the LPNs or nursing assistants who provide care aimed at promoting range of motion, activity, increased strength or fitness, and confidence.
The Roles of Other Rehabilitation Team Members
RN Case Manager
The registered nurse (RN) case manager communicates with you, your family, your physician, and the rehabilitation team to identify care needs and assist with coordination of services that you will require when you are discharged from rehabilitation. These services may relate to home care, equipment, transportation, placement outside the home, information about financial resources, and referrals to community services.
Social Worker
The social worker assists you and your family in making the necessary adjustments to changes brought on by illness, injury, or disability.
Social workers offer you counseling and support in coping with the emotional stress of illness and injury and preparing for your return to the community. The social worker may also work with the RN case manager in collaborating with the rehabilitation team and coordinating services required at the time of discharge from rehabilitation.